When Shibarium Launches Will Pawzaar NFT Marketplace Surpass All Others
(Disclaimer: The opinion expressed here is not investment advice – it is provided for informational purposes only. Every investment and all trading involves risk, so you should always do your own research prior to making decisions. We do not recommend investing money you cannot afford to lose.)
As of right now, the most known NFT marketplace is without a doubt OpenSea. But as with all things competition arises with new ingenuity that challenges the status quo. This new competitor is called Pawzaar.
ADVERTISEMENT
Pawzaar is the Brainchild of JD from Pawzone. Why is there so much hype surrounding the creation of Pawzaar? It will be the first NFT Marketplace that will be built on the SHIBARIUM L2 by Shiba Inu. Unlike other NFT Marketplaces, Pawzaar will be integrated with the ability to accept $SHIB, $LEASH, $BONE, $PAW, $ETH, $USDC, and ($SHI when available). This gives people access to use their favorite tokens which helps to diversify the audience.
Pawzaar will also offer other features that are not available elsewhere, giving users the ability to rent or lease NFTs for games and other use by giving people temporary access to all the utilities of an NFT without having to purchase it outright. (For lending and borrowing the PAW token from Pawzone will be required.)
Pawzaar will of course have all of the features that are offered by marketplaces like OpenSea as well as creating and minting.  The developers of Pawzaar want to bring in new creators as well and fully understand that not everyone has the know-how to create NFTs. They have also come up with a solution for this by giving users access to all the tools, instructions, and analytics available to help them on their journey.
ADVERTISEMENT
#Pawzone #Shibarium $SHIB 💯💥 https://t.co/58228ysFqy

— $SHIB KNIGHT (@army_shiba) May 22, 2022
Pawzaar will also have a unique feature built in. A portion of every transaction will be sent to the $SHIB Burn address creating even more utility for the platform. As stated on their website pawzone.io, "A percentage of EVERY transaction will be sent to the $SHIB burn address. "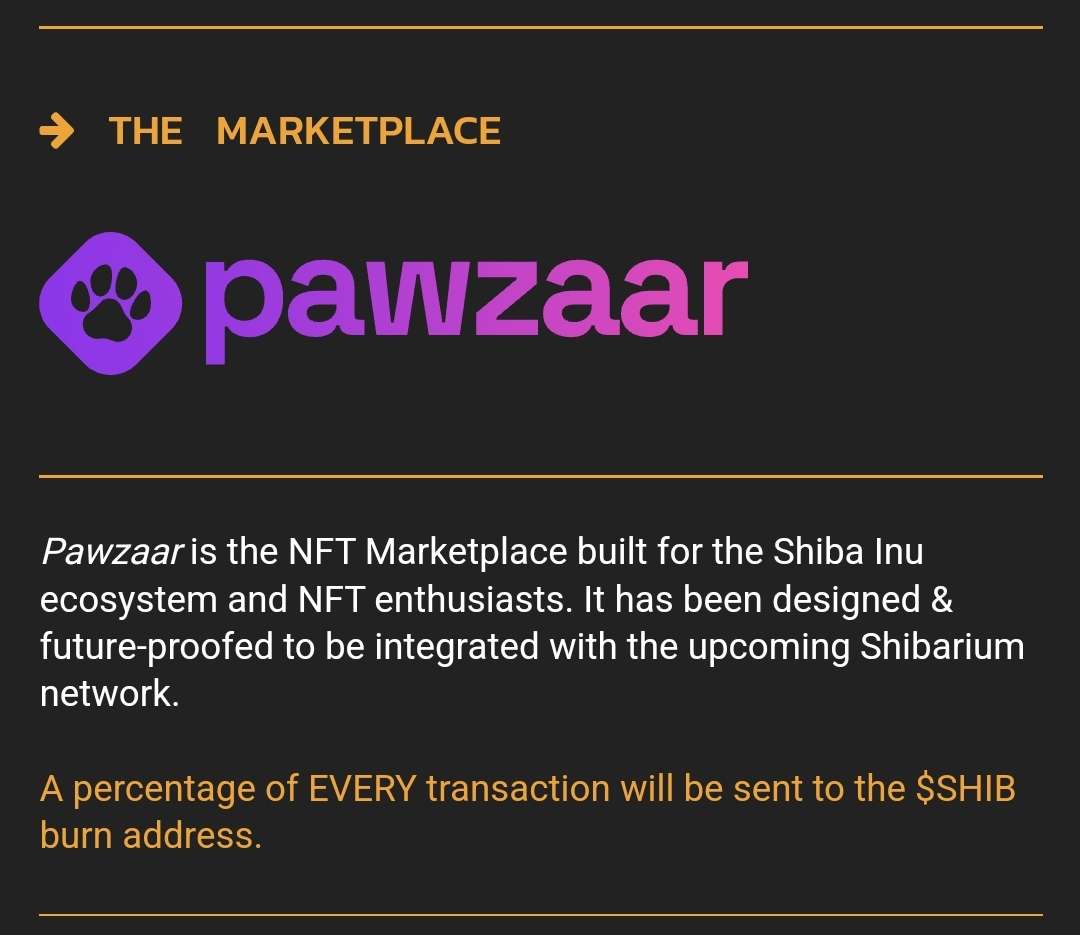 Pawzaar will also be rolling out many other features that have not yet been listed. One that we do know about is NFT-NFT trades. Buyers and sellers will be able to make, accept and reject offers sent to them. Shibarium is truly the future and all signs are pointing to this amazing community project, Pawzaar, being the next OpenSea and possibly better. The Shibarmy is looking forward to all things to come that are being built on the Shibarium L2. The crypto world as we know it is about to change, for the better.
ADVERTISEMENT