Become A Shib Millionaire – Coinjar Is Celebrating It's Ninth Birthday By Giving Away 99,999,999 Shiba Inu Tokens
(Disclaimer: The opinion expressed here is not investment advice – it is provided for informational purposes only. Every investment and all trading involves risk, so you should always do your own research prior to making decisions. We do not recommend investing money you cannot afford to lose.)
We know you have heard of Coin Jar as they are the oldest Crypto Exchange in Australia, but did you know they are about to celebrate their 9th birthday! In celebration of the event, they are giving away 99,999,999 Shiba Inu Tokens.
ADVERTISEMENT
When you read their blog you will see how amazing it was when they started when BitCoin was just at 100 USD. Can you imagine it buying Bitcoin at just 100.00 each? So many millionaires were made at that time.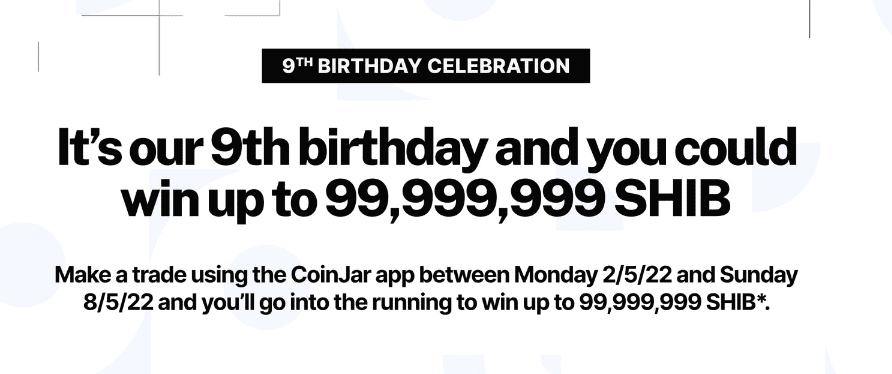 You still have a chance as the Shiba Inu Token is still in its early stages. In our opinion, you are getting in before Shiabrium is released, before Shib The MEtaverse is rolled out, and before the SHI Stable Coin is created.
ADVERTISEMENT
Coin Jar was a pioneer and the first in the UK to launch an exchange and also the first to be recognized by the Financial Conduct Authority. Now they are celebrating with Shiba Inu you know they are excited about the future of SHIB as well. Rules are very simple to enter to win. Anyone who makes just a single trade with the CoinJar App will be entered to win. Making more trades gives you more chances but it is limited to 10 entries per person.