Fiyah Shiba Inu Officially Reclaims Top Spot With Eth Whales Now HODLing More SHIB Than All Other Tokens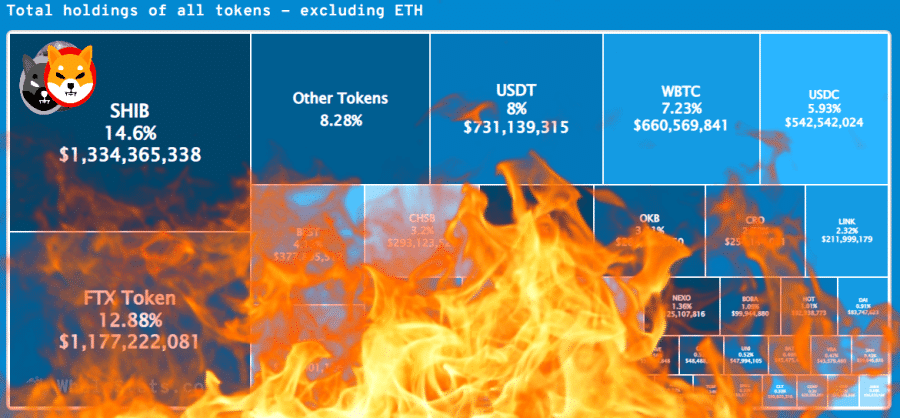 (Disclaimer: The opinion expressed here is not investment advice – it is provided for informational purposes only. Every investment and all trading involves risk, so you should always do your own research prior to making decisions. We do not recommend investing money you cannot afford to lose.)
Over the last few months, the Shiba Inu Token held the Number 2 spot for Ethereum Whales but as of today, it is officially back at Number 1! yes we all know that being number 2 is really good but having the top spot shows the strength of the Shib Army Whales.
ADVERTISEMENT
According to the analysis done by Whale Stats of the top 100 Eth Wallets Whales now hold a total of 1,334,365,338 USD worth of Shiba Inu while trailing in second is now FTX token with 1,177,222,081 USD. The stats are showing that whales believe that the Shiba Inu token is currently undervalued as they keep buying any dips they see. This is good news for the Shiba Army as most of the time when whales make these large investments they are planning ahead by up to 6 months.
Could Shiba Inu hit an ATH over the next 6 months? We absolutely believe that it is possible if some or all of the projects come about as promised. We have heard from Shib Dev Kaal some big Shiba Inu News. Shibarium is in Alpha and about to move into beta SOON. He also let the community know that the SHI Stablecoin is in the works. What many in the Shib Army are excited about is the new Shib Burn Portal that is in the works where users are able to earn rewards as Shib is burned.
I promise you, I am working on
1. SHIBARIUM – In Alpha, will move to Beta soon
2. SHI – In development, vote for your favorite collateral
3. SHIBASWAP V2 – New ways to earn
4. MV land sale event-soon
5. Burn portal – Earn rewards
6. Many other projects I can't disclose

— ShibDev4Evr (@kaaldhairya) April 5, 2022
ADVERTISEMENT
Though we cannot predict the future we can see the Shib Army getting stronger, The Devs working in overtime, and the whales heavily betting that the dream of Shiba Inu will come sooner than later.
ADVERTISEMENT