Shib Army News: Ultimate Gaming Showdown: Shiba Eternity Tournament Unleashes on September 2nd at 12 pm EST!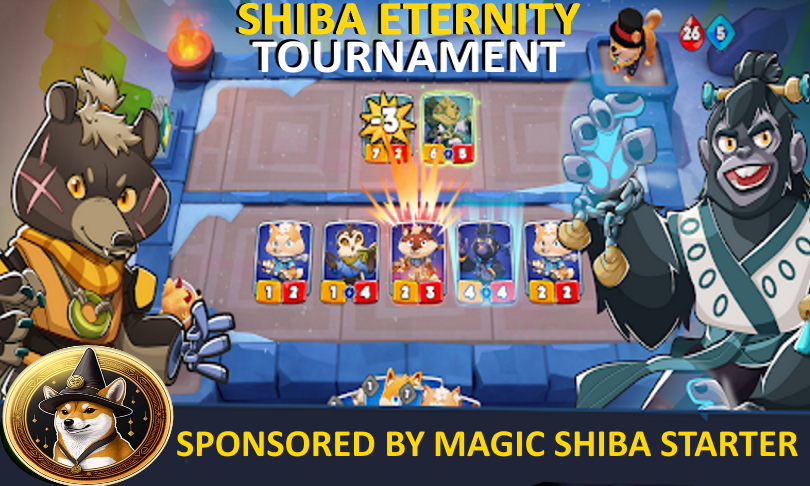 (Disclaimer: The opinion expressed here is not investment advice – it is provided for informational purposes only. Every investment and all trading involves risk, so you should always do your own research prior to making decisions. We do not recommend investing money you cannot afford to lose.)
Gaming enthusiasts clear your weekend schedules; a landmark event is on the horizon that you won't want to miss. The Shiba Eternity Tournament, sponsored by the innovative team at Magic Shiba Starter and orchestrated by the effervescent host @0wnowbrwncow, is promising to redefine gaming events as we know them.
ADVERTISEMENT
The tournament's curtain raiser is scheduled for September 2nd, 2023, at a high-noon kickoff of 12 pm EST. But hold on to your game controllers; that's just the appetizer. On the following day, Sunday, September 3rd, at 3 pm EST, @watchcloselyOLO will host the Shiba Eternity Recap. This follow-up event promises to delve into the tournament's most electrifying moments and offer invaluable advice for those looking to dominate future competitions.
🔥 Ignite your competitive spirit with a #ShibaEternity Tournament!!

This event Sponsored by @MagicShibaStart $MSHIB! 🏆

Calling all #Shibarmy 🚀 pic.twitter.com/rULM1mKX7O

— Mazrael | Summer of Shibarium (@_Mazrael_) August 31, 2023
But what's a tournament without its share of booty? The stakes have never been higher, as buzz surrounding the event has snowballed, resulting in a rather enticing prize pool. Gamers will be pitting their skills against one another for a chance to win cold, hard cash: $600 for the first-place maestro, $300 for the runner-up, and a not-too-shabby $100 for third place.
ADVERTISEMENT
Thinking about jumping into the fray? You're in luck—joining is easier than a cheat code. Just hop onto the ShibariumTech Discord Server (https://discord.gg/shibariumtech). Astonishingly, entry is as free as a Fortnite dance move—no fees required.
What sets the Shiba Eternity Tournament apart, though, is its ambition to be more than just another leaderboard scramble. It aims to serve as a virtual watering hole for the global gaming community. In essence, it's less about who racks up the most points and more about leveling up connections among like-minded enthusiasts.
Kudos are in order for Magic Shiba Starter, the event's sponsor. Already making waves in both the crypto and gaming spheres, the company seems to have mastered the art of appealing to two of the internet's most robust communities.
Join the #ShibaEternity State of the Dogjo Tournament Recap with Sandwichgang this Sunday noon PST! #SHIBARMY https://t.co/MNjTZvynAL

— BONOSHI 🔱 | Summer of Shibarium (@BonoshiSakamoto) August 31, 2023
So, mark your calendars, gamers. Whether you're competing or just love the thrill of the spectator's seat, tune in for the Shiba Eternity Tournament on September 2nd and stick around for the recap on September 3rd. This isn't just another tournament; it's an epic saga in the making, aimed at forging legends and unforgettable moments in gaming history.
ADVERTISEMENT