Shiba Inu News : Central Exchanges Now At 93 Percent Buy And Only 7% Sell For Shiba Inu
(Disclaimer: The opinion expressed here is not investment advice – it is provided for informational purposes only. Every investment and all trading involves risk, so you should always do your own research prior to making decisions. We do not recommend investing money you cannot afford to lose.)
Even though the markets are down not only did the number of holders grow but also all other stats are looking phenomenal for the Shiba Inu Token. Support for the token seems to be in the .0000095-.0000010 range. At the same time, BTC supports are around 19,ooo.
ADVERTISEMENT
When analyzing data we look towards Coinbase, one of the most widely used Central Exchanges, to get the gauge of the holders. If we look at the information below we can see that the typical hold time for holders has now passed the golden threshold of 150 days, now sitting at 151 days for average hold time. We also see that 93% of all trades made for Shiba Inu are buyers and only 7% are sellers. From what we analyzed, this is the best statistics showing for any cryptocurrency currently held by investors. Finally, we can see that out of thousands of Cryptos offered the Shiba Inu Token stands at Number 11 in popularity.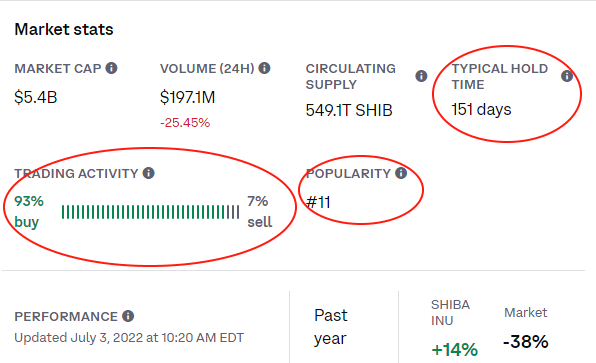 The markets are in a bear cycle right now but SHIB has poised itself to be at the front of the pack for when the markets rebound. Shiba Inu is still up 14% for the year whereas the rest of the market average is negative 38%. When the markets start to recover, based on our data and opinion, Shiba Inu could climb to new ATHs. Of course, this depends on factors such as the release of the L2 Shibarium and how well it performs. This is the reason the developers are taking their time to make sure that when released, it works properly and meets all the expectations of the hype that has surrounded it.
ADVERTISEMENT
ADVERTISEMENT