Shiba Inu News: SHIB Tops All Alt Coins By Being Most Held By Eth Whales and 142 Avg HODL On CEX

(Disclaimer: The opinion expressed here is not investment advice – it is provided for informational purposes only. Every investment and all trading involves risk, so you should always do your own research prior to making decisions. We do not recommend investing money you cannot afford to lose.)
You would think with the market downturn that all Alt Coins would be hitting the basement but an astonishing fact is brought to light when the market is in trouble. Whales and Average holders move their investments into areas of the crypto market they feel are the safest. And it seems they feel that place is with the Shiba Inu Token.
ADVERTISEMENT
When we looked at the data from Whalestats we can see that the Shiba Inu Token is not just the most held Altcoin but is also the second held token even when including Stable coins like USDC and USDT as Shib has just passed USDT.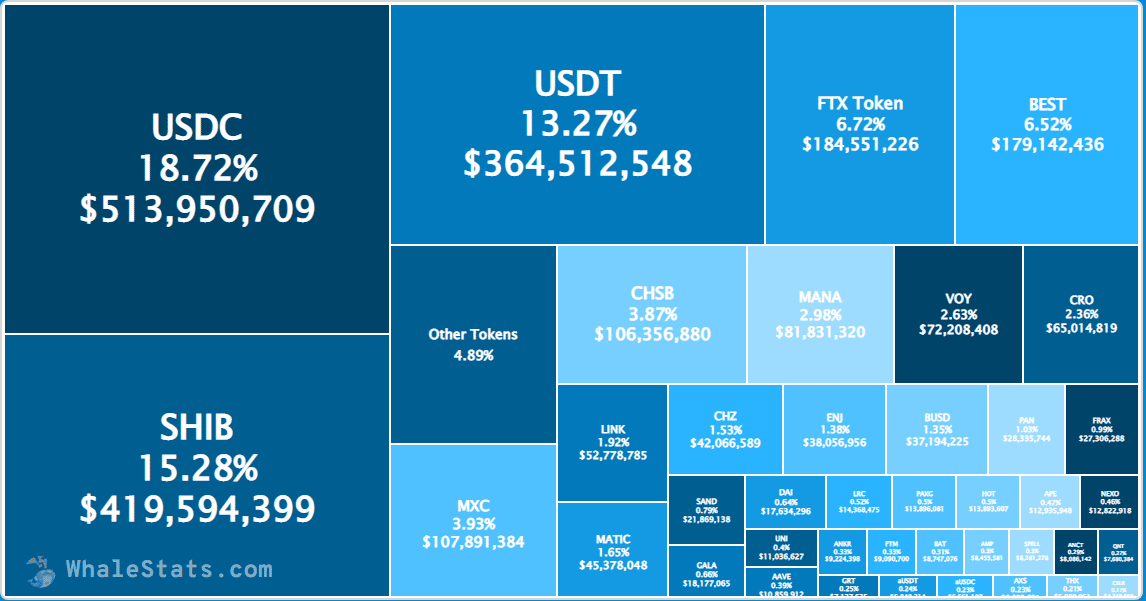 But whales are only one part of the story as an analysis of Central Exchanges shows that average holders are also not only moving assets to the Shiba Inu token but also holding for a longer period of time. The average time someone is holding Shib is anywhere between 140 and 143 days. But if we dig deeper into the data we can also see that the buyers far outweigh the sellers of the token. If we look throughout the week using data from Coinbase the range is anywhere from 78%-to 83% depending on the time of day. This is an extremely bullish sign for the alt coin.
ADVERTISEMENT
Looking forward we can only assume that once the bear market ends that one of the top movers could be the Shiba Inu Token. Right now it is either that the ETH whales are following the strength of the Shib Holders, or the Shibarmy following the trend of the whales. no matter which of the two it is does not matter, what matters is that the strength of the Shiba In Token seems to be rising, even during these turbulent times.
ADVERTISEMENT