Shiba Inu News: ShibaSwap Update Will Be The OFFICIAL Cross-Chain Dex For Shibarium
(Disclaimer: The opinion expressed here is not investment advice – it is provided for informational purposes only. Every investment and all trading involves risk, so you should always do your own research prior to making decisions. We do not recommend investing money you cannot afford to lose.)
There have been many in the community asking questions about what the new ShibaSwap will look like with the launch of Shibarium. It has now been made clear to the Shib Army.
ADVERTISEMENT
As we previously reported, there are thousands of projects that are ready to build on Shibarium. The lead Shiba Inu said that all projects are welcome to build as that is how Shibarium will grow. This is good news for the Shib Army as the turnout has been amazing.
But what was also said by Shytoshi Kusama was the following. "A few things to clear up…everyone is invited to Shibarium! I can't wait to see, and have already seen, some incredible submissions into our intake form. I'm silent because I'm with various teams working on updates in time for Shibarium Beta and SXSW for Shib.io the Metaverse.
BUT please note something. The Shib Team will ensure that a CROSS-CHAIN, updated, and beautiful ShibaSwap will be the OFFICIAL DEX of Shibarium. Just in case that wasn't clear. Can't wait to see others."
ADVERTISEMENT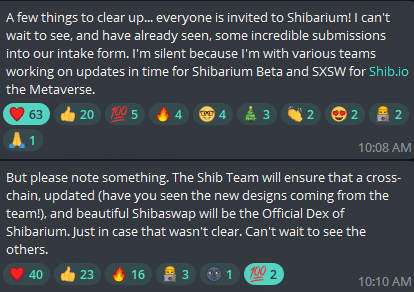 The announcement has excited many in the Shib Army. Mazrael, AKA the Grand Librarian, tweeted"#SHIBARMY #shibarium #USESHIBASWAP"
#SHIBARMY #Shibarium #USESHIBASWAP pic.twitter.com/IwsiEuCn97

— Mazrael (@_Mazrael_) March 3, 2023
Again it is very exciting to see how active the Shib Army is right now. Shibarium is on the way and with all of these projects building it seems as if the L2 is going to grow rapidly and be used by all.
ADVERTISEMENT